Fantasy Football Wrap Up 2014/15
January 20th, 2015 § Leave a Comment
Ryan Tannehill for President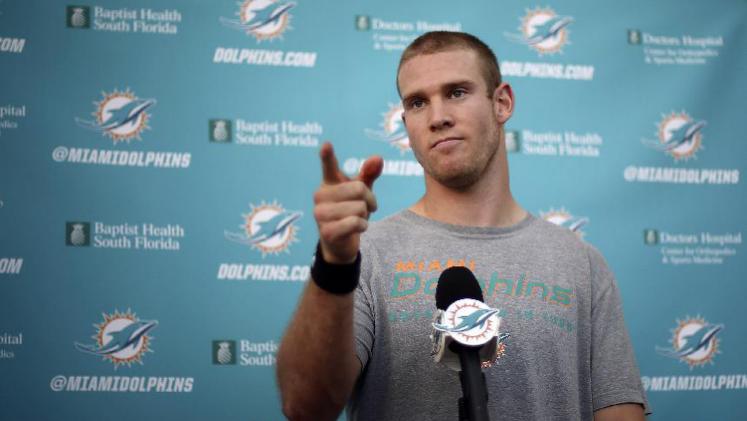 I won the championship in the fourteen team league. That makes it back to back, and five out of the seven seasons.
Aw..shux … you don't have to go and say that. Really? You really think so? Aw…Go on.
Okay, joking aside: Yes, a ridiculous run. But if you've been reading my fantasy football posts, you know what I think of fantasy football. Anything involving grown men and fantasy is … well, goofy at best. If anything, it proves I'm dorkier than the next guy. And as I've always insisted, luckier.
Now, about this luck thing. I have to admit, it's hard to call five out of seven pure luck. Could there be something here? Some pattern or some secret to fantasy football supremacy? I think we ought to take a look. How about I lay the back to back, league champion rosters side by side to see if something catches our eye?
2013 Championship Roster
QB  Ryan Tannehill
RB  LeSean McCoy
RB  Zac Stacy
Flex  Maurice Jones Drew
WR  DeSean Jackson
WR  Larry Fitzgerald
TE  Greg Olsen
D/ST  Cardinals
K  Greg Zuerlein
2014 Championship Roster
QB  Ryan Tannehill
RB  Mark Ingram
RB  Jonathan Stewart
Flex  Kenny Stills
WR  Antonio Brown
WR  Mike Wallace
TE Jimmy Graham
D/ST  Ravens
K  Stephen Gostkowski
You see that don't you? So obvious now. How did I not see this before? Ryan Tannehill. It's Ryan Tannehill! Ryan Tannehill is the key to fantasy football domination. Next year, take Tannehill in the first round. But hey, shhhh… Let's just keep this little nugget between us.