January 31st, 2015 § 2 Comments
Super Bowl XLIX
The Super Bowl is one of those over hyped events you can see from space. The frenzy around it rages like a forest fire with enough hot air to create it's own microclimate. And so naturally, the two weeks leading up to the Super Bowl is a frenzy of busy nonsense. The world has descended upon Scottsdale to promote products, themselves, themselves using products. Nothing much of worth happens. We wait and listen to analysis, injury updates and predictions. Same old interviews – another year, a new set of players, same old stuff. Then some more analysis. More predictions. Please! Play the game already!
Not this year. This year, we got Marshawn Lynch and his obstinate media hatin'. I love it. He's … "All about that action boss." The dude doesn't like to talk. Is anyone surprised? C'mon, this isn't a real story. We've all known Marshawn's a little nuts. And I don't think it's an act. Just look at his official NFL headshot.
A picture says a thousand words.
Here's a question: Why is it that when Belichick is aloof and condescending, he's a genius, but when Marshawn says he doesn't want to talk, he's a miscreant?
Not only did we get BeastMode on media day, last week we got Deflategate 2015. Again … loved it. Not that I care whether or not the Pats footballs were doctored up to Tommy's optimal psi. Did they cheat? Technically … maybe. Did it matter? No. Does it matter that it didn't matter? Who knows. My love for "Deflategate" had nothing to do with all that. I loved it because I could hear the collective chuckle as the junior high boy in all of us was brought out by the unavoidable talk of balls. Balls in hand. Balls being rubbed down. How Tom likes his balls. "I'm not an expert in balls." Balls deflating in the cold. My balls. Your balls. Hehehe… It was fantastic.
Okay, sorry. Onto the game. I've got to wonder, when these two teams look across that field Sunday afternoon, will they feel like they're looking into a mirror. Solid in the trenches. Exceptional secondaries. Unsung heroes out wide. Monsters in the backfield. And late round QBs without a pulse. Both teams will be ready. Both will be physical. Probably why the betting line has hardly moved off center.
So, who wins? After calling Denver last year, I'm undaunted. I'm prepared once again to show you five readers how little I know about football. This year, I'm taking Seattle. I don't care that my gut says New England is going to win – that Seattle will struggle to cover the short, quick pass. I don't care that money is coming in heavy for New England. I'm just not going to make the same mistake twice.
Seattle 24 New England 20.
January 20th, 2015 § Leave a Comment
Ryan Tannehill for President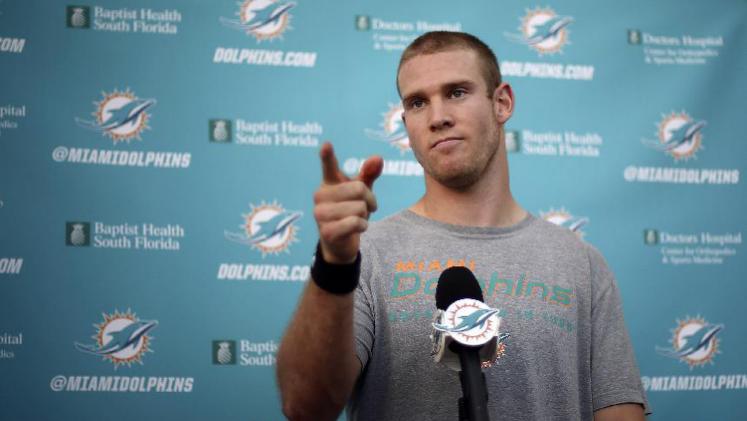 I won the championship in the fourteen team league. That makes it back to back, and five out of the seven seasons.
Aw..shux … you don't have to go and say that. Really? You really think so? Aw…Go on.
Okay, joking aside: Yes, a ridiculous run. But if you've been reading my fantasy football posts, you know what I think of fantasy football. Anything involving grown men and fantasy is … well, goofy at best. If anything, it proves I'm dorkier than the next guy. And as I've always insisted, luckier.
Now, about this luck thing. I have to admit, it's hard to call five out of seven pure luck. Could there be something here? Some pattern or some secret to fantasy football supremacy? I think we ought to take a look. How about I lay the back to back, league champion rosters side by side to see if something catches our eye?
2013 Championship Roster
QB  Ryan Tannehill
RB  LeSean McCoy
RB  Zac Stacy
Flex  Maurice Jones Drew
WR  DeSean Jackson
WR  Larry Fitzgerald
TE  Greg Olsen
D/ST  Cardinals
K  Greg Zuerlein
2014 Championship Roster
QB  Ryan Tannehill
RB  Mark Ingram
RB  Jonathan Stewart
Flex  Kenny Stills
WR  Antonio Brown
WR  Mike Wallace
TE Jimmy Graham
D/ST  Ravens
K  Stephen Gostkowski
You see that don't you? So obvious now. How did I not see this before? Ryan Tannehill. It's Ryan Tannehill! Ryan Tannehill is the key to fantasy football domination. Next year, take Tannehill in the first round. But hey, shhhh… Let's just keep this little nugget between us.
January 12th, 2015 § Leave a Comment
I'm pretty sure I fell asleep standing up. In my forty-five years of life, it was a first. I was holding our foster child in one of those front packs, gently bobbing to keep him asleep. It was early evening. A college basketball game of no consequence was on ESPN2. Bobbing. Watching. "Who's even playing? I care less and less about basketball." Bobbing. Patting. More watching.
And suddenly, I was falling forward. That internal equilibrium thing got triggered and fired a signal to my legs. A couple frantic, instinctive steps kept me from face planting atop our coffee table. More importantly, it kept me from inadvertently body slamming our five month old foster baby. Thank God for that equilibrium thing.
When I came to my senses, I realized I had done one of those violent, dozing head jerks except I did it with my whole body. I can use some more sleep.
Foster parenting has cost us a few things. Time is scarce. Meals are interrupted. Plans are adjusted. Of the different tolls the little man has levied, sleep has been the big one. I am learning anew the value of a good night's sleep.
The other day, I was thinking of our tendency to believe that there will be a payoff. I want to tell myself, "It will all be worth it in the end." I dream this kid will be a good man someday. And that maybe he'll be the trigger that re-writes his family story. Change the trajectory of his generational line. Of course, I'll learn something invaluable. This whole thing will do something in our family, in the hearts of our kids that cannot be done any other way. It'll all be worth it. The payoff is far greater than the cost.
I don't know. Maybe none of this happens. Will I then look back and think, "What was that all about? What a waste." Is sacrifice only worthwhile if as a result something more is gained? I thought I'm dying either way. All my trying, I cannot keep. My life will be spent. Maybe the payoff is in having a say in where it will be spent. Maybe the payoff is in the dying for something … someone other than myself. Maybe the payoff is at the end of this life the falling asleep will come without the violent jerk.